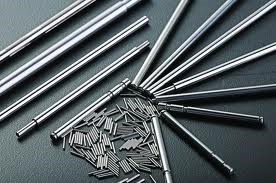 The material choice for precise electronic parts must be adjusted based on user's working environment and amount of magnetism in the metal. Our free cutting wire guarantees excellent roundness, consistent surface hardness and clean surface which will increase the productivity of consumers.
Applications:
Printer / Medical Equipment / Gas Equipment / Facsimile / Vending Machine / Micro Motor Shaft / Refrigerator / Oil Pressure Valve / Mobile Phone
Grade:304、302、 303, 303Cu, 303F, 410, 410C, 416, 420F, 420J2,
Diameter:0.7mm-30mm
Surface:S-co , bright,
Packing:coil wire or bars
Strength: WPB、WPA、WPC、W1 、 W2 、 W1/2、W ¼
Standard:JIS or ASTM Standard . We can also produce products according to the standard requested by our customers.